API Products
Perfection links & Drill collar lift adaptor
Rotary slips & Casing slips & Drill collar slips
Related Information
We, Taixing Petroleum Machinery Co., Ltd., established in 1974, is a leading manufacturer specialize in handling tools in China's oil and gas industry, our products are set as follows: drill pipe elevators, casing elevators, drill collar elevators, tubing elevators, slip type elevators, single joint elevators, sucker rod elevators, elevator links, perfection links, safety clamps, rotary slips, and etc.
We have been granted API licenses since 2002 as follows: API Spec 8A, API Spec 8C, API Spec 7K, API Spec Q1 and ISO9001:2000, ISO/TS29001, (till 2012, API Spec 8A has been a historice documents by API).
Our company covers an area of 130,000 square meters, of which 100,000 square meters are built for manufacturing. Nearly 200 employees are working within our company to focus on clients' expectation, put attention on quality of our products, and offer service for customers.
We have several workshops respectively to produce API products, and our examination capabilities are as follows: physic-chemical analysis, metallographic analysis, acid-cyanogen analysis, load test, tension test, stress test, NDT, MPI and etc. All our products are fully tested or inspected before release.
We are registered supplier of CNPC, SINOPEC, and CNOOC, our products share 90% of domestic market; meanwhile, our products are welcomed by drilling companies or oilfield services in USA, Canada, Peru, Australia, Kuwait, India, Russia, Uzbekistan, Kazakhstan and etc.
We are striving to meet our customers requirement and expectation consistently, based on high quality products and top level service, we have established reputation within our customers, and we welcome customers, domestic or overseas, to visit our factory.
Company Overview
Our Products are in service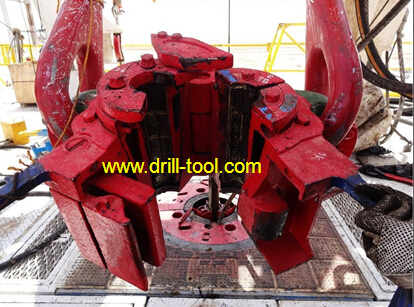 In addtion to all size of manual elevators, elevator links, slips, we can also offer non API products, such as mud bucket, wear guide assembly, clamp on thread protector and stabbing guide,