API Products
Handling tools
Treating/Frac Iron
Swivel joints
Long sweep or long radius swivel joints are designed and manufactured in line with world famous brand products to handle a complete range of high pressure and abrasive oilfield fluids, and swivel joints can be interchangeable with those world famous brand products.
Long sweep Swivel joints are made of high quality forged alloy steel that meet ASTM or AISI standards, and the forged material are free from cracks, blow holes and other forging defects. After full heat-treatment, each forging are checked for surface cracks by performing hydro test. Swivel joints features uniform thickness of wall, long radius and streamlined bore, such can assure swivel joints to serve with super performance, and assure swivel joints can handle crude oil, natural gas, brine, steam, water, mud, cement slurry, acids or any mixture of above at a cold working pressure from 5000psi to 15000psi in high-pressure discharge lines, water lines, temporary flow lines, well testing lines, cementing and circulating lines, and other high-pressure applications at temperature and temperature of 20° to 250° F.
Long radius Swivel joints are designed with tri-race ball bearing to join subs of swivel joints for rotation, such can assure axial load capacities, and each swivel joints can rotate 360°. For ball bearing of swivel joints, ball races are embedded with snap ring made from hardened alloy steel SS-304/EN-47/AISI-6150 and the grooves of balls are properly greased with good quality grease. The groove surface are hardened and tempered up to BHN 350-450 with a depth of hardness from 0.8-1.00 mm.
End connections of long radius swivel joints are often hammer union wing nut, and hammer union threads are of Acme threads, these Acme threads are machined smooth and free from burrs, tear etc. Sharp edges of each full swivel joints are machined rounded.
Swivel joints Material for Lip type seal and "O" ring is of Acryl Nitrile Rubber, and for metal ring: Brass/Stainless steel. The shore hardness of the Nitrile rubber is 750±5,
After assembling, long sweep swivel joints are hydro tested at a pressure of 1.5 times the working pressure, and then outside swivel joint are painted with primer followed by good quality paint.
Swivel joints are punched with ID tracking number, 10 configurations of swivel joints can be offered, style 10 and Style 50 swivel joints are often asked for, and swivel joints can be available in 2 inch and 3 inch.
Painting colors of swivel joints for field service are available as per order. Nameplates are the primary way to identify the pressure rating, and each swivel joints are capped with thread protector to protect thread.
Swivel joints product Swivel joints wall thickness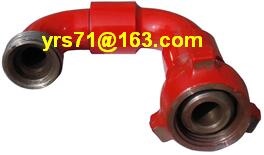 Swivel joints configuration with detail description
Configuration

 

Description for each item

S.N.

Description

1

Grease retainer

2

O-ring

3

Packing

4

Lube plug

5

Ball

6

Ball plug

7

Seal ring

8

Snap ring

9

Elbow

10

F×M crossover

11

M×T crossover

12

Sub O-ring

13

Wing nut

14

Segments

Item 1~8 and item 12 are repair kits
10 configurations of swivel joints are listed as follows:
Swivel joints listed in this website are all designed with hammer union end connection, for low pressure swivel joints with flanged connection, contact the manufacturer.
Click here to download manual for swivel joints